Essay My Best Friend About 500 Words In English
Essay My Best Friend: Here You will get an essay on my best friend that will help you to write.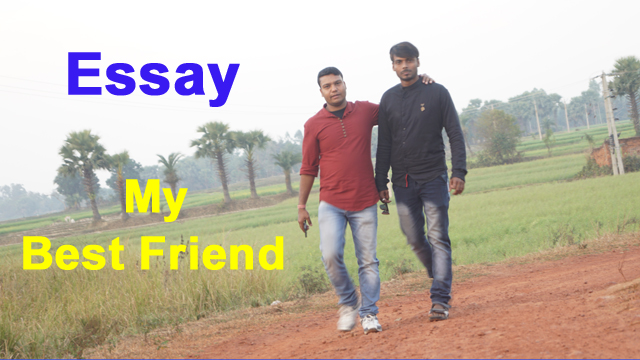 Definition of friend:
Friend Are an important part of everyone's life. A friend is someone with whom you can share your joys and sorrows and who is there to help in case of need.
My friends and best friend:
I have lots of friends in school and at home. All are my good friends. Amongst them, Puja is a friend who is very special to me. She is in my class and a neighbour too. I am lucky enough to have a true friend like Puja. I value her friendship.
Good quality of my best friend:
We have both been class fellows for lost four years. Puja has many good qualities. Her helpful nature makes people like her. My mother too is fond of her. She is soft-spoken and gives respect to elders. She is an ideal girl and her behavior is a model for other students.
She is very punctual and regular at school. Her books and exercise notebooks are very clean. Moreover; she has very good handwriting.
Puja is very polite, well mannered and sweet-tempered. She has a very cheerful nature. She is always helpful to others in their time of need and never feels them to be obliged. Due to her charming and winsome personality, she is liked by all.
Related: Internet & Its Effect Essay Writing
My best friend's education:
Teachers like Puja as she is very good at her lessons, never neglects her studies, and never gives a chance to complain. She is a genius in mathematics, speaks and writes English with a case, and has an aptitude for science. She helps the weak students in their lessons.
Her interest in other skills:
She is a very good singer and dancer also. She takes an active part in the activities and encourages me to take part. Puja was also selected for the dance competition from our school.
Helpful friend:
The other day when I fell ill, she visited me at my home. As I was unable to go to school, she helped me in my studies also. She used to bring notes and homework. I have so many things to learn from her each day. She motivates me to do well in my studies and school activities. I am proud of my best friend Puja. She is a medicine to my life.
Conclusion:
It is a blessing to have a friend like Puja and I am glad that I am getting lots of opportunities to learn many things from her. I would cherish her friendship forever and wish to keep her as my best friend forever. I can't imagine my life without her.
Related: Autobiography of a five rupee
10-Line Short Paragraph On My Best Friend
There are many friends in everybody's life.

I am not also the exception.

I have a large number of friends in my friend list.

But it is a very hard matter to say the only one name who is my best friend.

My best friend's name is Sangita.

I share my sorrow and happiness with her.

She helps me in my studies, and all my work and inspires me to learn new things.

Susmita is a very polite, good-mannered, cool and honest girl

She is always helpful to others.

It is a blessing for me to have a friend like Susmita.
This is a short Essay My Best Friend. 
Read More:
If you think this "Essay My Best Friend" is a good and necessary article, do not forget to like and share it with your friends through social media. Thank You!- Prakash sir